After nearly seven weeks of investigating the murder of four University of Idaho students, a suspect was apprehended with a history of researching criminal perspectives and motivations.
Early Friday morning, authorities reported that a raid was conducted by police and the FBI at a home in Chestnuthill Township in Monroe County, Pennsylvania in connection to the fatal stabbings of Kaylee Goncalves, Maddie Mogen, Xana Kernodle and Ethan Chapin. Law enforcement arrested 28-year-old Washington State University (WSU) Ph.D. student Bryan Kohberger, charging him with felony burglary and four counts of first-degree murder.
According to multiple outlets, Kohberger has been pursuing his doctorate in criminal justice at the Pullman, WA school, nearby the University of Idaho in Moscow, after having already earned a master's degree in criminal justice from DeSales University in Center Valley, Pennsylvania in 2022.
As part of his research, the suspect allegedly participated in a community of former prisoners on Reddit with a since suspended and removed account named "Criminology_Student," according to CNN.
Through that account, Kohberger reportedly made posts like the following where he began, "My name is Bryan, and I am inviting you to participate in a research project that seeks to understand how emotions and psychological traits influence decision-making when committing a crime. In particular, the study seeks to understand the story behind your most recent criminal offense, with an emphasis on your thoughts and feelings throughout your experience."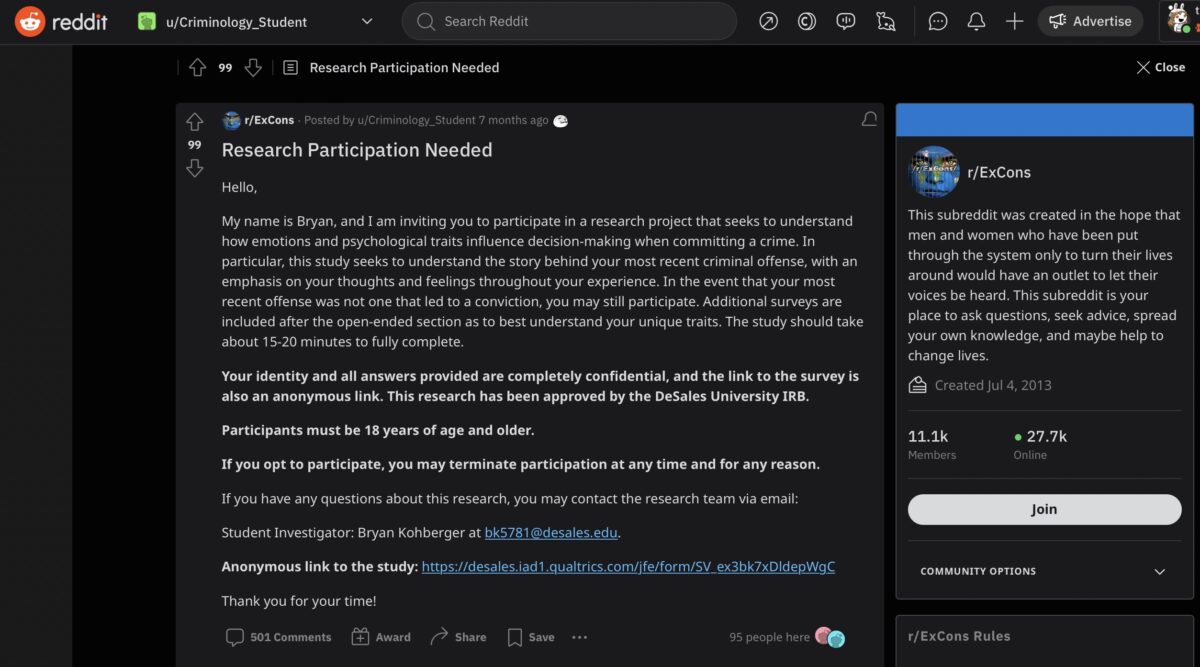 Image: Reddit
It would go on to ask questions that included:
"Before making your move, how did you approach the victim or target?"
"After committing the crime, what were you thinking and feeling?"
"Did you prepare for the crime before leaving your home? What were you thinking and feeling at this point?"
"Why did you choose that victim or target over others?"
Moscow Police Chief James Fry offered limited details on the arrest in a press conference and in his statement said, "These murders have shaken our community and I know that no arrest will restore the families or bring these young students back. However, we believe in the criminal process and continue to extend our most sincere condolences to the families."
According to the Moscow Police, "The Idaho Supreme Court dictates that probable cause affidavits remain sealed until the arrest warrant is returned to the court. As such, the factual basis of this case will remain sealed until an initial appearance is made in an Idaho court."
An official spokesperson for WSU said Friday, "Kohberger had completed his first semester as a PhD student in WSU's criminal justice program earlier this month."
"This morning, the Washington State University Police Department assisted Idaho law enforcement officials in the execution of search warrants at Mr. Kohberger's apartment and office, which are both located on the WSU campus," the spokesperson continued. "WSU Police are working closely with local, state, and federal law enforcement officials as they continue their investigation."
Meanwhile, fellow WSU students who lived in that same housing complex as Kohberger reported to Fox News Digital their surprise at learning the suspect had been living nearby prior to the murders.
Shawn Domgaard, a 36-year-old Ph.D. student told the outlet, "It's just so, like I said, a high contrast to what we're used to. It feels like it's happening far away even though it's literally in my backyard."
Another student, Justin Williams, explained that he hadn't seen Kohberger much before, "I'd see him go check his mail, that was it. Other than that, I've only seen him like twice the whole time, and I've lived here since July 2021."
A white Hyundai Elantra closely matching the description of the vehicle that law enforcement had reported near the scene of the murders was also seized during the raid after FBI based in Philadelphia were said to have been monitoring the suspect for four days.
Kohberger was reportedly being held at the Monroe County Correctional Facility and is set to have an extradition hearing at the Monroe County Courthouse in Stroudsburg, Pa. on Tuesday, Jan. 3.
Republished with permission from American Wire News Service
DONATE TO BIZPAC REVIEW
Please help us! If you are fed up with letting radical big tech execs, phony fact-checkers, tyrannical liberals and a lying mainstream media have unprecedented power over your news please consider making a donation to BPR to help us fight them. Now is the time. Truth has never been more critical!
Success! Thank you for donating. Please share BPR content to help combat the lies.
Latest posts by Kevin Haggerty
(see all)
Comment
We have no tolerance for comments containing violence, racism, profanity, vulgarity, doxing, or discourteous behavior. If a comment is spam, instead of replying to it please click the ∨ icon below and to the right of that comment. Thank you for partnering with us to maintain fruitful conversation.