Get the latest BPR news delivered free to your inbox daily. SIGN UP HERE
After throwing a large number of library books into a dumpster and filming the disposal in the name of "CRT," a Pennsylvania videographer claimed the stunt was "satire" when the video started making the rounds online.
The eyebrow-raising footage and subsequent explanation have resulted in plenty of questions about North Allegheny School District policies.
In the TikTok video, shared by Trevor Sutcliffe, books are collected and enthusiastically thrown into garbage cans and a dumpster at North Allegheny Senior High School in Wexford, PA.
"Woke" messages pop up over the footage stating that the unnamed participants claim they're "taking this school's curriculum into our own hands" and "reshelving the colonizer literature" by throwing it into the trash.
Brainwashed white high school students at North Allegheny Senior High School in Wexford, Pennsylvania throw hundreds of library books written by white authors into a dumpster in order to "decolonize" their school library.pic.twitter.com/GoPpSUFvDy

— Trevor Sutcliffe (@TrevorSutcliffe) February 14, 2022
The short montage then claims that the participants are "just doing the Lord's work" before showing the inside of the dumpster filling up with dozens of books.
After Sutcliffe posted the concerning video, the original poster reached out to him asking that the video be taken down and trying to explain that he was only following school policy while acting as custodian over the summer to help out.
The student that made this contacted me and says it's satire. He was serving as summer custodian & was asked to throw away several "outdated" books, and he decided to make a joke of it. I believe him, but it raises a question as to why the librarian wanted these books discarded. pic.twitter.com/gSOKlJuZrz

— Trevor Sutcliffe (@TrevorSutcliffe) February 14, 2022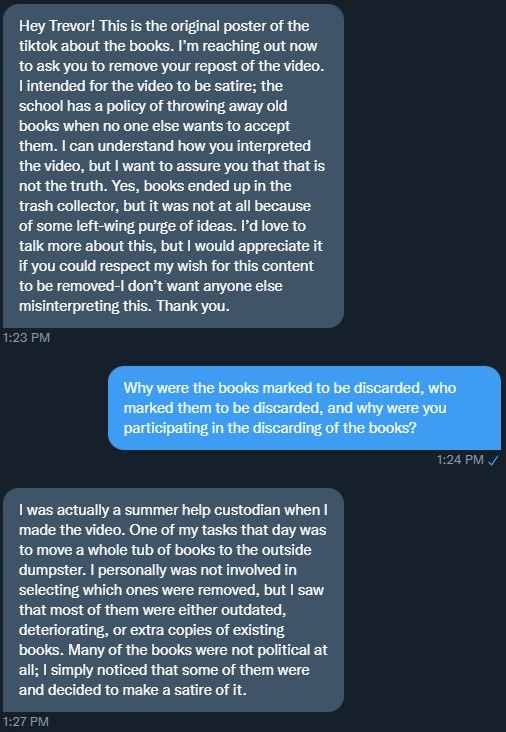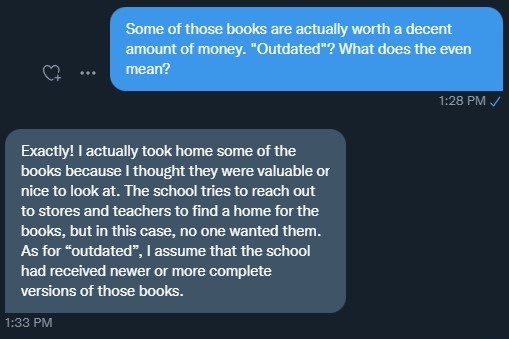 "Yes, books ended up in the trash collector," the unnamed poster told Sutcliffe, "but it was not at all because of some left-wing purge of ideas," before claiming, "I personally was not involved in selecting which ones were removed, but I saw that most of them were either outdated, deteriorating, or extra copies of existing books."
Sutcliffe questioned the notion of "outdated" books and was told that the school tries to find homes for materials before discarding them but, "no one wanted them."
This is not a stand-alone incident as other schools have been questioned for this "weeding" process in the past. Christina Pierre, principal at Sunrise Park Middle School in White Bear Lake, MN explained in 2020 to concerned community members, "The weeding procedure is important to help us find a new home for books 10 years and older to ensure that materials are keeping up-to-date with the needs of ever-changing curriculum, school goals and student needs."
It is not known if the policy of North Allegheny Senior High School is the same and there is still the question of the identity and motive of the original poster.
Sutcliffe names the video as material of a "Brainwashed white high school student" in his initial post and then said it was "the student that made this" who contacted him. However, the link that connects to the now-deleted TikTok post uses the hashtag, "#teachersoftiktok" raising other concerns about possible faculty involvement in the "satire."
Source on Tiktok:https://t.co/6VJ0P6MEsX

— Trevor Sutcliffe (@TrevorSutcliffe) February 14, 2022
Whether there was malicious intent or not, one careful observer pointed out that one of the selected books dubbed "colonizer literature" was actually authored by J.W. Blassingame, a black American historian who published six volumes on the works of Frederick Douglass.
— Peter Leonard (@Peter__Leonard) February 14, 2022
DONATE TO BIZPAC REVIEW
Please help us! If you are fed up with letting radical big tech execs, phony fact-checkers, tyrannical liberals and a lying mainstream media have unprecedented power over your news please consider making a donation to BPR to help us fight them. Now is the time. Truth has never been more critical!
Success! Thank you for donating. Please share BPR content to help combat the lies.
Latest posts by Kevin Haggerty
(see all)
Comment
We have no tolerance for comments containing violence, racism, profanity, vulgarity, doxing, or discourteous behavior. If a comment is spam, instead of replying to it please click the ∨ icon below and to the right of that comment. Thank you for partnering with us to maintain fruitful conversation.