Closer scrutiny of Hunter Biden's infamous laptop suggested greater involvement from Secretary of State Antony Blinken and his wife than merely working to discredit it before the 2020 presidential election.
Recent sworn testimony from former CIA Deputy Director Michael Morell before the House Judiciary and Intelligence Committees made the connection that Blinken, then-campaign adviser for presidential candidate Joe Biden, had been integral in prompting the October 2020 letter from intelligence officials claiming the laptop was Russian disinformation.
Now, Fox News Digital reported that Blinken and his wife, current White House cabinet secretary Evan Ryan, had been in close communication with Hunter Biden and his business partners, including Devon Archer and Eric Schwerin, for years.
One such email found on the laptop documented efforts beginning on May 22, 2015, to schedule a meeting between Hunter, a then-board member of Ukrainian energy company Burisma, and Blinken, while he was deputy secretary of state, for "advice on a couple things."
"Have a few minutes next week to grab a cup of coffee? I know you are impossibly busy, but would like to get your advice on a couple of things," Hunter Biden asked.
"Absolutely. I'm just about to land in Tokyo en route back DC from Burma," Blinken replied. "I'll be in office from Tuesday on. Copying Linda in my office to find a good time. Look forward to seeing you. Tony."
That reply was forwarded to Hunter's business partner Devon Archer who acknowledged the arrangement with a terse, "Roger."
Once scheduled, the meeting would go on to be delayed as a result of the passing of Hunter's older brother Beau Biden on May 30, 2015, and further communications showed they ultimately met on July 22 at the State Department.
Sent from Joan Mayer, the now-defunct Rosemont Seneca Advisors vice president to both Hunter and Schwerin, the schedule read in part, "12:00-1:30pm- Lunch with Tony Blinken (State Department) *Enter at main entrance ('Diplomatic Entrance')…Proceed to receptionist area where Kenny Matthews will be waiting to escort you to Tony's office."
A follow-up message from Blinken stating it was "great to see" Hunter and "catch up" confirmed the meeting took place.
Other emails showed the then-vice president's son endeavoring to establish closer ties to Blinken as early as June 16, 2010 when he reached out to Ryan asking "Can I get Toni's non-govt email? I want to send him something. Thanks."
Ryan, who had also served as a campaign manager for Biden's failed 2008 presidential bid, provided the email and later agreed to meet Hunter for coffee.
Earlier that year, Schwerin had been in direct communication with Ryan as he emailed Hunter about the upcoming White House Easter Egg Roll and noted that he had "Talked to Evan" about tickets the Office of the Vice President would be handing out for the event.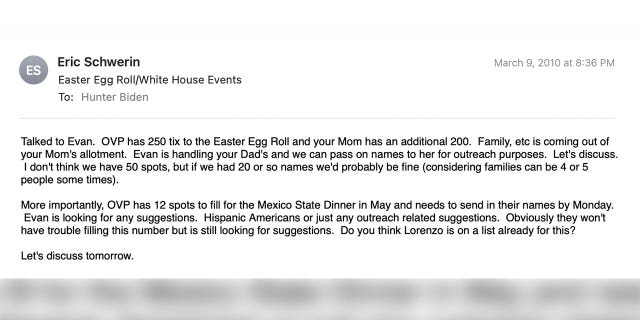 Image: Fox News Digital
Still more messages showed her communicating with Hunter and Rosemont Seneca Partners assistant Anne Marie Person in May 2010 regarding the guest list for a Mexico State Dinner. A year later, Ryan was slated to meet with Biden for lunch after Schwerin requested the addition to the schedule.
As previously reported, details of Morell's testimony suggesting Blinken had been behind discrediting the laptop, and therefore his own connections to Hunter's business partners, were released in a letter from House Judiciary Committee Chairman Jim Jordan (R-Ohio) and House Permanent Select Committee on Intelligence Mike Turner (R-Ohio).
Blinken, Biden campaign behind intel officials' letter to discredit Hunter laptop story, ex-CIA boss testifieshttps://t.co/f3JL8zydI3

— American Wire News (@americanwire_) April 21, 2023
"Based on Morell's testimony, it is apparent that the Biden campaign played an active role in the origins of the public statement, which had the effect of helping to suppress the Hunter Biden story and preventing American citizens from making a fully informed decision during the 2020 presidential election," the letter said.
Inquiries sent to the White House, State Department and Hunter Biden's lawyers about meetings mentioned in the emails were reportedly not returned.
DONATE TO BIZPAC REVIEW
Please help us! If you are fed up with letting radical big tech execs, phony fact-checkers, tyrannical liberals and a lying mainstream media have unprecedented power over your news please consider making a donation to BPR to help us fight them. Now is the time. Truth has never been more critical!
Success! Thank you for donating. Please share BPR content to help combat the lies.
Latest posts by Kevin Haggerty
(see all)
Comment
We have no tolerance for comments containing violence, racism, profanity, vulgarity, doxing, or discourteous behavior. If a comment is spam, instead of replying to it please click the ∨ icon below and to the right of that comment. Thank you for partnering with us to maintain fruitful conversation.