The head of a Massachusetts children's hospital gender surgery center called for all facets of the practice to be expanded as couched denials rang out about the handling of gender dysphoria.
Boston Children's Hospital is no stranger to the culture war, having already sworn fealty to the alphabet activists' push for "gender-affirming care" (GAC), perhaps better termed "grooming." Having previously come under fire for promoting the idea that children "seemingly from the womb" can know they are trans, they are now facing scrutiny for the Center for Gender Surgery co-director Dr. Oren Ganor's push to increase capacity for practices being banned across the country.
Ganor is a plastic surgeon and assistant professor at Harvard Medical School who recently co-authored a paper in The Journal of the American Medical Association (JAMA) on "Streamlining Interstate Access to Gender-Affirming Surgeries."
Partnered with Stanford University medical student Shawheen J. Rezaei, who previously obtained a philosophy master's degree in developmental studies from the University of Cambridge, Ganor's bio states, "He is also deeply invested in clinical research, and aspires to use research to improve the field of gender-confirming surgery, provide the highest quality of care to patients, and educate the next generation of healthcare providers in gender care."
That message was clear in the article that read, "Physicians who provide GAC will face a greater burden due to constraints in certain states…work to criminalize GAC for adolescents."
"Especially as certain states work to criminalize GAC for adolescents, there will be an increased flux of patients traveling to seek care in states with more open legislation," they continued in a push to "increase training efforts" for "gender-affirming surgeries."
"[P]lastic surgery residencies currently do not have a recommended number of gender-affirming surgery cases that plastic surgery trainees see during training," they lamented.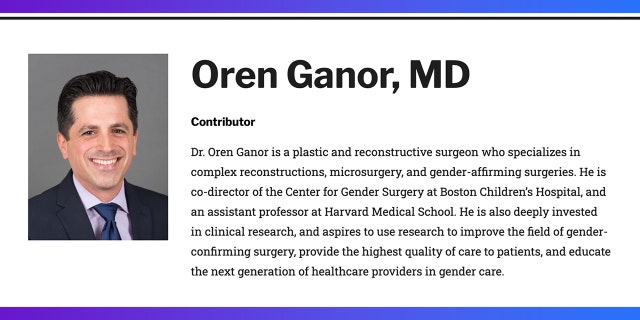 Image: Harvard Medical School
Even as Ganor shamelessly promoted life-altering procedures for minors that would undoubtedly provide him with a financial windfall in the future, Boston Children's Hospital attempted to deny any wrongdoing on their part.
In a statement provided to Fox News Digital, the hospital said, "It is important to recognize that for many gender-diverse young people, the decision to engage in gender-affirming care can be lifesaving and life-changing. Without this care, gender-diverse youth can experience severe distress, anxiety, and depression."
"[A]ny decisions about gender-affirming care should be made after a rigorous evaluation process that involves a psychologist or social worker, a patient's doctor and their parents or guardians," they continued.
As a reminder, Dr. Kerry McGregor who promoted the notion of trans children "from the womb" would be the kind of psychologist they'd use to decide to permanently hamper a child's development with puberty blockers.
Harvard hospital says trans babies know gender from the womb; 'No basis in science or data… just ideology' https://t.co/9g3iyPVqgY pic.twitter.com/do38ZUYU8J

— Conservative News (@BIZPACReview) October 8, 2022
The spokesperson noted, "for surgical consultation, you must be 17 years of age and between 18 and 35 years of age at the time of surgery. We have since updated this to reflect the protocols for the practice which we have always adhered to (no surgery under 18 years of age)."
Though updated, the website still states, "We are here to affirm, uplift, and advocate for transgender and gender diverse youth, and we remain committed to doing all we can to support their care and well-being."
"As the first pediatric center in the country dedicated to the surgical care of transgender patients, we take an interdisciplinary approach from the start to ensure exceptional patient care," the site reads. "Our skilled team includes specialists in plastic surgery, urology, endocrinology, nursing, gender management, and social work, who collaborate to provide a full suite of surgical options for transgender teens and young adults." (emphasis added)
Adamant that genital mutilation was only performed on patients over the age of 18, the hospital made no such distinction about "chest reconstruction, breast augmentations, facial harmonization and other gender affirmation surgeries…"
DONATE TO BIZPAC REVIEW
Please help us! If you are fed up with letting radical big tech execs, phony fact-checkers, tyrannical liberals and a lying mainstream media have unprecedented power over your news please consider making a donation to BPR to help us fight them. Now is the time. Truth has never been more critical!
Success! Thank you for donating. Please share BPR content to help combat the lies.
Latest posts by Kevin Haggerty
(see all)
Comment
We have no tolerance for comments containing violence, racism, profanity, vulgarity, doxing, or discourteous behavior. If a comment is spam, instead of replying to it please click the ∨ icon below and to the right of that comment. Thank you for partnering with us to maintain fruitful conversation.