If the Democrats weren't already worried about a galvanized GOP based on unified messaging following the FBI raid at former President Donald Trump's Florida home, a poll conducted a couple of days later may well incite cold sweats and bouts of Trump Derangement Syndrome.
Last Monday, with the approval of Attorney General Merrick Garland, more than 30 agents from the FBI executed a search warrant at the former president's Mar-a-Lago residence in Palm Beach, Florida, seizing documents of which some were said to be "classified" or "top secret." Republicans from across the party shared in expressing their view that the unprecedented raid was an overreach and the stuff of banana republics and it was predicted that the Justice Department's actions had inadvertently handed Trump the nomination in 2024 should he announce his candidacy.
Now, according to a Politico/Morning Consult poll conducted last Wednesday, the president expanded his lead over his next nearest competitor Gov. Ron DeSantis (R-FL) by 10 points giving him an overall lead of 40 points were a primary election happening now.
The favorability among voters to have Trump be elected again remained relatively consistent since the days following the 2020 presidential election, but the latest polling at 58 percent was a peak still two days prior to the search warrant being made public.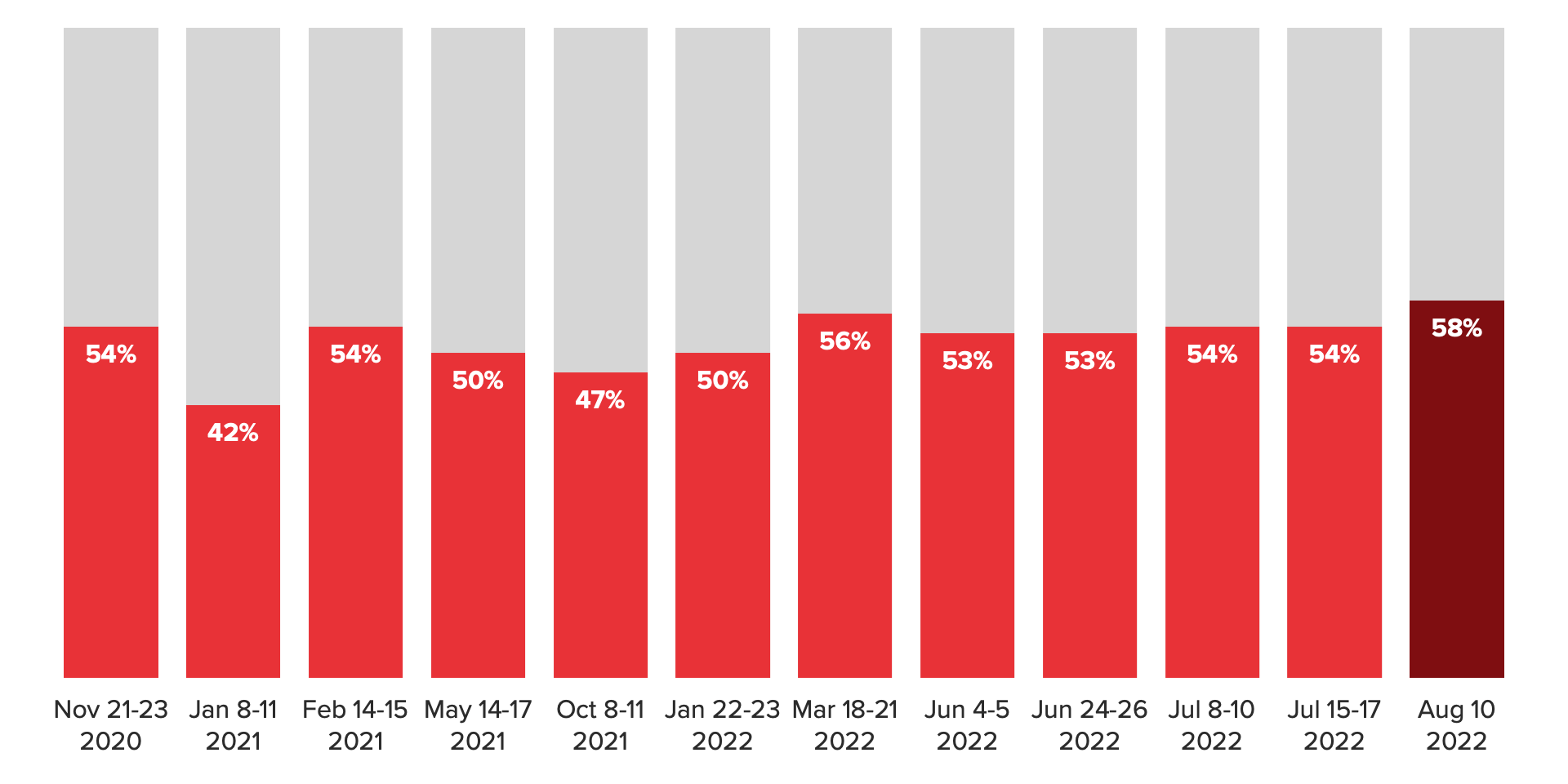 (Image: Morning Consult)
Even now, the affidavit justifying the fishing expedition at Mar-a-Lago has remained undisclosed only further driving speculation and support for Trump as an enemy of a crooked administration.
The president gained four percentage points over July polling, but the dramatic lead was widened with a loss of six points for DeSantis within a margin of two percentage points.
Though neither has expressly stated their intent to run for the Republican nomination in 2024, the pair have continued to trade the top spot as they've been pitted against one another in various straw polls. In June, the governor had topped the president by four points with Colorado conservatives favoring him 71 percent over Trump at 67 percent. Similarly, DeSantis had beaten Trump in a Wisconsin straw poll 38 to 32 percent in May.
DeSantis tops Trump in yet another 2024 straw poll, taking high marks at Colo. conservative summit https://t.co/ve4pYsKVbE pic.twitter.com/oYlGSfew7H

— Conservative News (@BIZPACReview) June 5, 2022
As of yet, DeSantis has remained well-aligned with Trump on matters of endorsements that he has made around the nation as he recently began a multi-state campaign tour to back Arizonans, Ohioans, and Pennsylvanians in a number of Senate and gubernatorial races starting with firebrand Kari Lake.
Should the FBI raid further prove to be just another in a long line of witch hunts against the president as it currently appears to be, Trump's continued statements on the matter are likely to be an even bigger boon to his favorability with voters.
On Sunday he posted to Truth Social: "America has never suffered this kind of ABUSE in Law Enforcement! For the FBI to RAID the home of the 45 President of the United States, or any President for that matter, is totally unheard of and unthinkable. This Break In was a sneak attack on democracy (our Republic!), and was both unannounced and done at a time when the President was not even present. It was for political, not legal reasons, and our entire Country is angry, hurt, and greatly embarrassed by it. MAKE AMERICA GREAT AGAIN!"
DONATE TO BIZPAC REVIEW
Please help us! If you are fed up with letting radical big tech execs, phony fact-checkers, tyrannical liberals and a lying mainstream media have unprecedented power over your news please consider making a donation to BPR to help us fight them. Now is the time. Truth has never been more critical!
Success! Thank you for donating. Please share BPR content to help combat the lies.
Latest posts by Kevin Haggerty
(see all)
Comment
We have no tolerance for comments containing violence, racism, profanity, vulgarity, doxing, or discourteous behavior. If a comment is spam, instead of replying to it please click the ∨ icon below and to the right of that comment. Thank you for partnering with us to maintain fruitful conversation.