A 911 operator is facing charges of involuntary manslaughter two years after failing to dispatch an ambulance to a rural Pennsylvania home when the daughter of the deceased had insisted her mother was "going to die."
On July 1, 2020, Kelly Titchenell was rushing to the home of her 54-year-old mother Diania Kronk in Sycamore, PA, a town more than 50 miles south of Pittsburgh, while pleading for help from 911 operator, Leon "Lee" Price. According to recording of the call, Price, a 50-year-old resident of Waynesburg, insisted on learning if Kronk was "willing to go" to the hospital before he would agree to send an ambulance, the Associated Press reported.
When Titchenell, 38, arrived at her mother's home, she found the woman naked on the porch speaking incoherently and "She just kept saying she was OK, she's fine. She's the mom, you know – she doesn't listen to her children." But the daughter knew that her mother wasn't fine as she had repeatedly told Price on the way over that Kronk would go to the hospital, "She will be, 'cause I'm on my way there, so she's going, or she's going to die."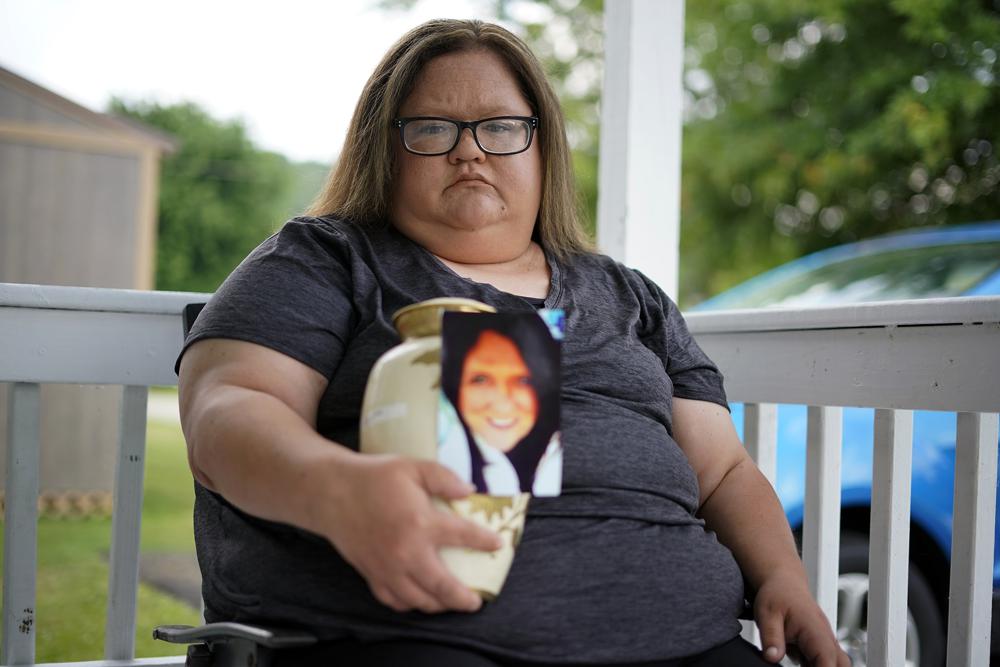 (Kelly Titchenell holding Diania Kronk's urn – AP)
"We really need to make sure she's willing to go," Price pressed further as the hospital was a half-hour away from the rural address.
"She's going to go, she's going to go," Titchenell stated, "Cause if not, she's going to die, there's nothing else." The dispatcher asked her to call back after she got to her mother's to make certain of it, only when she arrived she had no cell service and Kronk's landline could not be located.
Titchenell filed suit in federal court last month on behalf of her mother's estate against Price, Greene County and two 911 supervisors and stated, "I believe in my heart that my mother would still be alive if he would have sent an ambulance. It shouldn't have been his decision. He should have sent an ambulance and let the professionals decide if she should go to the hospital or not."
It is a rare occurrence for a 911 operator to be charged for manslaughter, but Titchenell's attorney Lawrence E. Bolind Jr. declared that Price's response was a "callous refusal of emergency medical services."
"It has to be very clear throughout the entire state, that when you call it's not going to be conditioned on somebody on the other end of the phone saying there's going to be a service provided or not," he stated. "What we're trying to do here is make this never happen to somebody else."
Greene County District Attorney Dave Russo noted that he is investigating whether Price's actions reflected a policy or training to promoted the refusal of service and stated, "We all deserve equal protections, and we all deserve access to medical services. I have a major concern as to the safety of the community in regards to this."
Marie Milie Jones, representing the county and supervisors, could not speak to Price's actions, but stated her clients do not believe they are liable for the death. "It's unfortunate that this woman had died. Certainly, from a personal standpoint, that's very difficult. I'm not going to comment on the details of her circumstances."
No statement was available from Price or his defense and he was arraigned June 29 before being released on bail. He is being charged with manslaughter, reckless endangerment, official oppression and obstruction.
DONATE TO BIZPAC REVIEW
Please help us! If you are fed up with letting radical big tech execs, phony fact-checkers, tyrannical liberals and a lying mainstream media have unprecedented power over your news please consider making a donation to BPR to help us fight them. Now is the time. Truth has never been more critical!
Success! Thank you for donating. Please share BPR content to help combat the lies.
Latest posts by Kevin Haggerty
(see all)
Comment
We have no tolerance for comments containing violence, racism, profanity, vulgarity, doxing, or discourteous behavior. If a comment is spam, instead of replying to it please click the ∨ icon below and to the right of that comment. Thank you for partnering with us to maintain fruitful conversation.