Restaurant patrons in Miami were horrified when a young father heroically lost his life protecting his young son from a crazed lunatic on Tuesday.
Dustin Wakefield, 21, of Castle Rock, Colorado was visiting Miami, Florida when he was shot several times shielding his son, two-year-old Elijah, after Tamarius Blair Davis Jr of Georgia allegedly opened fire.
Wakefield reportedly got in between his son, who thankfully was not injured, and Blair Davis who entered La Ceverceria restaurant waving a gun.
Dustin's parents Matt and Angela Wakefield hailed their son a hero who always put others first.
"It is in his true character that he laid to rest, protecting his family. He is that man," the Wakefields said in a statement provided to Fox News.
"We take great pride and comfort in the fact that we were blessed with the man who stepped up to save others. He has always been and he will continue to be our hero."
Witnesses described a horrifying scene.
The gruesome spectacle was caught on cell phone video, in which Davis can be seen dancing after the shooting, allegedly on top of Dustin's body.
Chilling: This shows an armed man dancing just after the murder victim was shot at La Ceveceria restaurant on Ocean Dr. @wsvn pic.twitter.com/w4fuEMr46F

— Sheldon Fox-7 News (@fox_sheldon) August 25, 2021
The suspect, Davis, stated in an arrest affidavit that he "was high on mushrooms, which made him feel empowered." Davis allegedly tried to shoot a second man, who managed to escape unharmed.  Davis is being held without bond for two second-degree murder charges with a weapon and attempted second-degree murder at Turner Guilford Knight Correctional Center.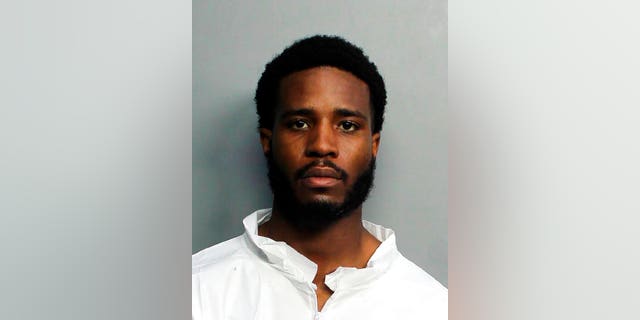 Dustin leaves behind his wife Karina who his parents called "the love of his life.
"His love for her should inspire us," the statement continued. "As a father he was full of love and pride. He loved his son with all he was.
"As a friend, there is not a person alive who did not feel his kindness, empathy and love from him. He would give freely to anyone and would give from his heart, full of love and acceptance. He loved God. Every day he lived full of faith and peace and he shared that with others."
Miami Beach Mayor Dan Gelber called for the South Beach Entertainment District to be dismantled in the wake of the shooting.
"Our city can no longer sustain an entertainment district," Gelber said. "It just attracts too many people, too many looking to act out, to fight, or buy drugs."
Several GoFundMe pages have been set up by Dustin's family in the wake of the tragedy. Angela Wakefield, Dustin's mother, had set up a page that had raised over $45,000 by Thursday, while Mike Wakefield, Dustin's uncle, had set up a second page that raised over $196,000 by Thursday.
Amid a week of horrendous and depressing news, conservative actor James Woods reminded his fans to focus on the good, and the selfless courage of a young man who gave his life for his son.
In a week of unrelenting horror I've been so moved by the courage of this man who stood between his little son and a crazed savage. He gave his life to protect his child from a beast. A true hero. So many heroes lost this week. It's soul-crushing. https://t.co/WpgAgRuG90

— James Woods (@RealJamesWoods) August 27, 2021
DONATE TO BIZPAC REVIEW
Please help us! If you are fed up with letting radical big tech execs, phony fact-checkers, tyrannical liberals and a lying mainstream media have unprecedented power over your news please consider making a donation to BPR to help us fight them. Now is the time. Truth has never been more critical!
Success! Thank you for donating. Please share BPR content to help combat the lies.
Latest posts by Joshua Nybo
(see all)
Comment
We have no tolerance for comments containing violence, racism, profanity, vulgarity, doxing, or discourteous behavior. If a comment is spam, instead of replying to it please click the ∨ icon below and to the right of that comment. Thank you for partnering with us to maintain fruitful conversation.