When University of Kansas senior Victoria Snitsar recently opened up the syllabus for her online course on Japanese Samurai history, she expected to find information about her class. Instead she found a rant about the school's concealed carry policy.
"My jaw dropped recently as I read the nine-page syllabus for an online history class I enrolled in for the fall semester at the University of Kansas," she explained in an op-ed for The College Fix. "Two full pages of the document include arguments against the Second Amendment and chides students who support the university's concealed carry policy or take advantage of it."
*Disclaimer.* This is *Opinion* and *Analysis* and is categorized as such by the @CollegeFix, the news site on which it is published. https://t.co/n4YgJOAJ62#2A #CampusCarry #emPOWERed #gungirls #2Adefenders #campuscarrynow

— Victoria Snitsar (@VSnitsarUSA) August 24, 2018
That isn't even the worst part. Take a look at this humdinger from the syllabus' first page: "With guns allowed on campus, I no longer feel safe having visitors in my office; so instead of in person office hours, I am available for consultation via email or Skype on the hours indicated above and by appointment."
It turns out that Professor Eric Rath of the school's History and East Asian Studies Department is childishly afraid of the school's concealed carry policy, which permits concealed handguns on campus as per a state statute. He's so afraid of this policy, in fact, he admonished his students against bringing a weapon to class, lest they shoot him.
"I do not want to worry about whether you might react by pulling a gun on me, or whether you might have an improperly secured weapon in your belt or bag," his syllabus states. "I have seen students become uncontrollably angry because of something that has happened in the course — a disappointing grade, an allegation of academic misconduct, an uncomfortable topic, a controversial statement. If you do not carry a weapon, you cannot be tempted to use it in a moment of frustration."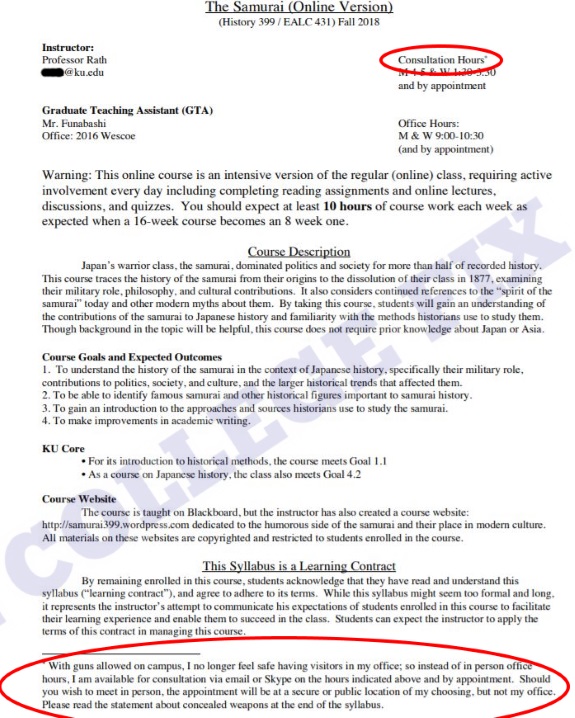 That's ridiculous and over the top, as noted by Snitsar, who made it clear in her op-ed that as someone currently seeking a concealed carry permit, she has no interest in learning about Japanese history "from a professor who does not value citizens' rights to protect themselves."
Not to mention one who doesn't value facts. A report released in the spring by university officials revealed that campus crime dropped by 13 percent during the 2016 to 2017 school year.
"[P]erhaps criminals intent on violence head to gun-free zones and tend to avoid places where they know people can defend themselves," the KU senior opined.
Despite Snitsar's objections to Rath's absurd syllabus, she did agree with what he had written about the need for all gun carriers to obtain proper training.
"In order to assess potentially dangerous situations accurately and use a firearm effectively, you need to complete extensive firearms training, such as that provided to military and law enforcement personnel. Without such training, constantly maintained, you are more likely to cause injury to yourself or an innocent person than to provide anyone with protection, including yourself," he had written.
Want to know who else supports all gun carriers receiving training? The much-maligned National Rifle Association, which provides its own training to gun owners. FYI, Snitsar has already received training, albeit from a local specialist.
Concluding her op-ed, she wrote, "My professor believes he can restrict my gun rights because he is in a position of authority, but I do not leave my constitutional rights at the schoolhouse door."
DONATE TO BIZPAC REVIEW
Please help us! If you are fed up with letting radical big tech execs, phony fact-checkers, tyrannical liberals and a lying mainstream media have unprecedented power over your news please consider making a donation to BPR to help us fight them. Now is the time. Truth has never been more critical!
Success! Thank you for donating. Please share BPR content to help combat the lies.
Latest posts by Vivek Saxena
(see all)
Comment
We have no tolerance for comments containing violence, racism, profanity, vulgarity, doxing, or discourteous behavior. If a comment is spam, instead of replying to it please click the ∨ icon below and to the right of that comment. Thank you for partnering with us to maintain fruitful conversation.