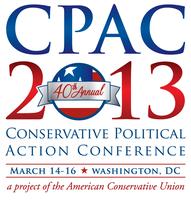 Media Release – The American Conservative Union (ACU) today announced U.S. Senator Rand Paul (R–KY) will address CPAC 2013 – the 40th annual Conservative Political Action Conference. America's largest gathering of conservative leaders and activists will be held Thursday, March 14 – Saturday, March 16, 2013.
"We are pleased to announce that Senator Rand Paul will be a featured speaker at CPAC 2013," said ACU Chairman Al Cardenas. "In just two years, Rand Paul has already established himself as a strong, independent voice for conservatives in the U.S. Senate."
Dr. Rand Paul was elected in 2010 as the junior United States Senator for Kentucky and has proven to be an outspoken champion for constitutional liberties and fiscal responsibility, and a warrior against government overreach. A graduate of Duke University School of Medicine, Paul was a practicing ophthalmologist in Bowling Green, KY, for 17 years. He is the son of former Republican Congressman and presidential candidate Ron Paul of Texas.
The 40th annual Conservative Political Action Conference, to be held March 14-16, 2013, at the Gaylord National Resort and Convention Center, will provide three days of blockbuster speeches, policy discussions and networking opportunities – all celebrating the shared principles of smaller government, a strong national defense and traditional American values. The ACU has hosted CPAC in the Nation's Capital since 1973, and it now stands as the largest annual gathering of conservatives in the country. For additional information, visit our website at conservative.org/cpac2013, on Facebook at facebook.com/CPACNews, or on Twitter at @cpacnews and #CPAC2013. Media registration (including bloggers) will open on February 1, 2013. The CPAC 2013 schedule and list of confirmed speakers will be announced in the coming weeks.
Founded in 1964, the American Conservative Union (ACU) is the oldest and largest grassroots conservative organization in the nation. For almost fifty years, ACU has served as an umbrella organization harnessing the collective strength of conservative organizations fighting for Americans who are concerned with liberty, personal responsibility, traditional values, and strong national defense. ACU defines conservatism, grows conservatism, and wins for conservatism.
###
DONATE TO BIZPAC REVIEW
Please help us! If you are fed up with letting radical big tech execs, phony fact-checkers, tyrannical liberals and a lying mainstream media have unprecedented power over your news please consider making a donation to BPR to help us fight them. Now is the time. Truth has never been more critical!
Success! Thank you for donating. Please share BPR content to help combat the lies.
Latest posts by Tom Tillison
(see all)
Comment
We have no tolerance for comments containing violence, racism, profanity, vulgarity, doxing, or discourteous behavior. If a comment is spam, instead of replying to it please click the ∨ icon below and to the right of that comment. Thank you for partnering with us to maintain fruitful conversation.