By Dr. Norman Berdichevsky
If we are to learn anything at all from history, it is that the Islamist concept of jihad was unequivocally understood as "violent holy war" against the infidels and not subject to varying interpretations.
It remains a political weapon that has been used quite similarly by the last Ottoman Caliph, the Taliban, the Iranian mullahs, Al-Qaeda and rival extremist Sunni and Shi'ite clerics in Iraq today.
It is still attractive to much extremist opinion in large parts of the Arab world, Chechniya, the Sudan, Pakistan and even in Indonesia. Its attraction throughout the 20th century for those autocratic and dictatorial European leaders who sought to become 'Protectors of Islam' and 'borrow' it, was to exploit its violent and evil appeal for their own purposes.
Our media and government and even more incredibly the forces on the political Left in much of the world have essentially promoted an ignorance of what motivates Muslims to undertake violent acts preferring to focus on their individual problems of being marginalized in Western societies and subject to discrimination, estrangement due to their inability to integrate or be successful.
The look of benign puzzlement on the face of Attorney General Holder when asked about the common factor of "Radical Islam" in the behavior and attempted acts of terrorism by those individuals apprehended and questioned over the past year and a half of the Obama administration reveals a profound avoidance of following the dictum if it looks like a duck and walks like a duck and quacks like a duck, it must be a duck.
No, for Obama and Holder, for The New York Times and for a large majority of those who pretend to be journalists not only in the United States, but in practically all Western societies including paradoxically, those like Spain and the U.K. that have already suffered atrocious acts of wanton terrorism, the guilty are "certain people who act from a variety of motives".
Jihad, this veritable Sixth Pillar of Islam is not a "marginal" or "perverted interpretation" practiced by a tiny minority. It may lay dormant for generations but has the power overnight to transform tens of millions of Muslims around the globe into a mob craving blood, and "revenge" for what they perceive to be an affront to their dignity and sacred beliefs.
The extremist Muslim Brotherhood and its many affiliates operating under a variety of names are either the largest political grouping or a powerful force threatening to impose its program on behalf of Sharia law and JIHAD in many of the 56 nations that comprise the Organization of the Islamic Council of Nations (OCI).
How else does one explain the mass violent demonstrations, hundreds of deaths and property damage in the millions, threats, attempted mayhem and terror and a world-wide economic boycott imposed on Denmark in 2006 and the threats to destroy Switzerland by Libyan leader Khadaffi in 2008 in revenge for its prohibition against tall minarets on mosques?
To understand the latent but decisive appeal of JIHAD on Muslims who for all intents and purposes are lawful, peace-abiding and "moderate" but who are clay to be molded in the hands of the Jihadist masters who dominate political Islam, one only has to look at the Danish cartoon affair.
If anyone doubts the potential for mass violent behavior at the drop of a hat and the instantaneous appeal of JIHAD, let them carefully study the anti-Danish riots in February 2006 and how quickly the behavior of a violent mob can be turned from focusing on the INFIDEL, if not the Israeli, then the Jew, if not the Jew, than the foreign Christians, if not the foreign Christians, any Christian at hand including Arab Christians.
The anti-Danish demonstrations across the Arab and Islamic world in the wake of the cartoon depiction of the Prophet Muhammad quickly turned violent. In Beirut, anti-Danish demonstrations on Sunday, February 6 unleashed an anti-Christian sectarian riot. Thousands of demonstrators set fire to the Danish embassy in Ashrafieh and then went on to rampage and loot this largely Christian neighborhood, smashing car windows and shop fronts.
Hundreds of Lebanese troops and riot police quickly converged on the area, and fired warning shots. A fire truck that had tried to use a hose to disperse the rioters was seized and its crew attacked. Rioters stoned the St. Maroun Church and ripped a metal cross from the entrance to the home of the Greek Orthodox Bishop of Beirut.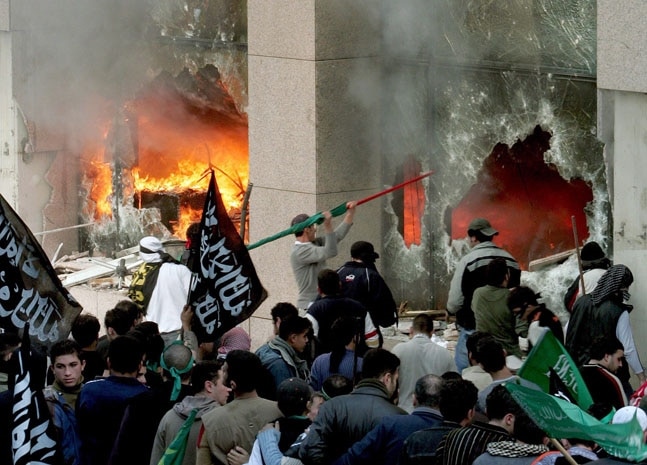 The empty ruins of the Danish embassy were still smoking and piles of glass littered the street and the air reeked of smoke. Fortunately, the embassy staff had vacated the week before in anticipation of protests. The Danish government has called on all its citizens to leave Lebanon and Syria. Syrian demonstrators had set fire to the Danish and Norwegian embassies in Damascus the day before. Thousands of Sunni Muslims from northern Lebanon had converged on Beirut during the morning on their way to the demonstrations, driving along the coastal highway in convoys decked with green and black Islamic flags inscribed with "There is no God but God."
Among those Sunni political and religious groups participating in the demonstration was Al-Ahbash, an Islamist organization that has close ties to Syria. It has been linked to the assassination of former Lebanese Prime Minister Rafik Hariri.
Denmark had given its Muslim population the same safeguards and protection as all its citizens. It supported Muslim institutions and schools and instituted costly programs designed to ease their integration into Danish society by making allowances for Muslim customs such as dietary restrictions.
A Palestinian-born Muslim (Naser Khader) was elected to the Folketing (Danish Parliament) from the moderate-centrist "Det Radikale Venstre" Party that has supported Danish policies in Iraq yet, literally, at the drop of a hat, at the call of extremists, Danish Muslims and Muslims all over the world in their millions were mobilized to demonstrate, threaten, riot, and commit mayhem and violence against the citizens and the flag of a country they knew nothing about.
Khader, like other Danes, was shocked and outraged by the provocation of several Muslim religious leaders in Denmark (imams who had control of the state supported Islamic religious Council) who purposely defamed the country and spread incendiary false stories about the cartoons. The motivation for the cartoons was to parody the misuse by religious extremists of Islam to glorify radical extremist views, retard integration and encourage support for radical Islamist policies in the Middle East, including adding their own fabricated extra, false and fabricated truly offensive cartoons.
What was entirely missing from the coverage of Muslim reaction in much of Europe and the United States by the media was the decided split among Danish Muslims. Several hundred contacted Khader to express their support of his brave stand and his new organization of "Democratic Muslims" and believed that the imams misused their power and that ordinary Muslims must support the democratic values of the host society in which they live.
Also lacking in international coverage was the growing resistance of Danes who were and are not racist but have been stirred as in the heroic days of 1943 to stand up and be counted to defend their country. As a result, Danes cancelled more than 100,000 vacation trips to Egypt and Turkey, the two most popular holiday sites in Muslim countries (where violent demonstrations and flag burning rioting in front of the Danish embassies occurred).
This is clearly the case even though the ever ready Danish willingness to compromise was present and both former Prime Minister Fogh and the editors of Jyllands-Posten apologized for any unintended offense. This, of course, was insufficient. The call to Jihad, no matter from where, launched by the most extremist elements within political Islam always trumps the moderates. The message of Islam is clear – to strike anywhere anytime. It reads "Yesterday Israel, Today Denmark (or Britain, or Switzerland or the USA or Spain again), Tomorrow the World!"
/
Norman Berdichevsky is a native New Yorker who lives in Orlando, Florida. He holds a Ph.D. in human geography from the University of Wisconsin-Madison (1974) and is the author of The Danish-German Border Dispute (Academica Press, 2002), Nations, Language and Citizenship (McFarland & Co., Inc., 2004), Spanish Vignettes; An Offbeat Look into Spain's Culture, Society & History (Santana Books, Malaga, Spain. 2004), An Introduction to Danish Culture (MacFarland, 2011) and The Left is Seldom Right (New English Review Press, 2011). He is the author of more than 200 articles and book reviews that have appeared in a variety of American, British, Danish, Israeli and Spanish periodicals such as World Affairs, Journal of Cultural Geography, Ecumene, Ariel, Ethnicity, The World & I, Contemporary Review, German Life, Israel Affairs, and Midstream. He is also a professional translator from Hebrew and Danish to English and his website is here.
/
Please Support Citizen Journalism!
DONATE TO BIZPAC REVIEW
Please help us! If you are fed up with letting radical big tech execs, phony fact-checkers, tyrannical liberals and a lying mainstream media have unprecedented power over your news please consider making a donation to BPR to help us fight them. Now is the time. Truth has never been more critical!
Success! Thank you for donating. Please share BPR content to help combat the lies.
Latest posts by Dr. Norman Berdichevsky
(see all)
Comment
We have no tolerance for comments containing violence, racism, profanity, vulgarity, doxing, or discourteous behavior. If a comment is spam, instead of replying to it please click the ∨ icon below and to the right of that comment. Thank you for partnering with us to maintain fruitful conversation.