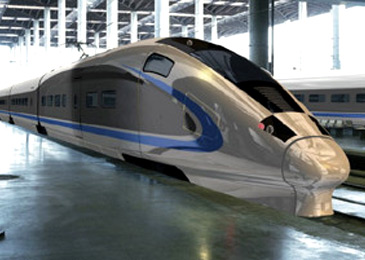 Editor's Note – One line jumps out here; 'no public financing, such as taxpayer-backed bonds, would be requested by the consortium'.
What exactly does that mean?  Surely, as you will see quoted in the story below, Florida will be on the hook to subsidize operating losses, right? 
Be sure to follow the link at the bottom for much more information on this story.  As usual, Kenric Ward is very thorough in his reporting, including an analysis of whether it will work for Florida.
 

European Group Gears Up Florida High-Speed Rail

French-Spanish-Virgin consortium vies for inside track on Tampa-Orlando project

By Kenric Ward
Sunshine State News

A consortium of European companies is vying to finance and operate Florida's high-speed rail line between Tampa and Orlando.

The group, headed by train maker Alstom SA of France, will undoubtedly face spirited competition in its bid for the multibillion-dollar project. But the seven-company multinational consortium says no one can rival its combined experience and financial wherewithal.

"The group's proposal to design, build, finance, operate and maintain the system will include a private financing dimension that offers the best solution for Florida once the specific bidding rules are established," says Alstom spokesman Tim Brown.

Envisioning a "public-private partnership that brings private funding to table," Brown said the team's blend of global and Florida experience will "create jobs, enhance mobility and help ensure that tax dollars are invested wisely."

He said no public financing, such as taxpayer-backed bonds, would be requested by the consortium.

VINCI Concessions, one of the team's equity partners, has a worldwide track record with concession-style financing models in which private companies, in return for bringing their own financing, are granted permission to operate rail systems over periods of 30 years or more.

"When the public and private sectors work together, we always achieve a better outcome," said Fadi Selwan, business development director at VINCI, also based in France.

TEA PARTY CRITICS AREN'T ON BOARD

The Florida Department of Transportation, which has received a down payment of $800 million from Washington to launch the high-speed rail project, will select companies to build, operate and maintain the system.

The eventual price tag is conservatively estimated at $2.7 billion, and tea party groups, anticipating massive cost overruns, are pressuring incoming Gov. Rick Scott to derail the project.

Noting that Florida voters rescinded their approval of a high-speed rail project in 2004, 29 state tea party leaders wrote to Scott, saying, "private solutions to transportation between Tampa and Orlando already exist." (See full text of letter here.)

Scott has said that even if Washington comes through with its promised $2 billion for the rail venture, the state shouldn't be on the hook for any additional expenses.

Full Story – http://www.sunshinestatenews.com/story/european-group-gear-florida-high-speed-rail
DONATE TO BIZPAC REVIEW
Please help us! If you are fed up with letting radical big tech execs, phony fact-checkers, tyrannical liberals and a lying mainstream media have unprecedented power over your news please consider making a donation to BPR to help us fight them. Now is the time. Truth has never been more critical!
Success! Thank you for donating. Please share BPR content to help combat the lies.
Latest posts by BizPac Review
(see all)
Comment
We have no tolerance for comments containing violence, racism, profanity, vulgarity, doxing, or discourteous behavior. If a comment is spam, instead of replying to it please click the ∨ icon below and to the right of that comment. Thank you for partnering with us to maintain fruitful conversation.