Powered by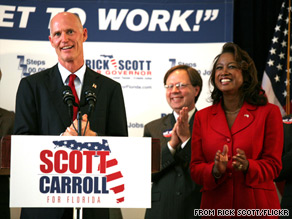 Editor's Note – The governor's race is close and will come down to who does the best job of getting out the vote.
As for those disgruntled Republicans still stewing over Bill McCollum's defeat in the primary, those who are reluctantly supporting Scott or sitting it out completely, it's time to ratchet up the enthusiasm level. 
An endorsement from McCollum, which is long overdue, is a step in the right direction.  Otherwise, a Democrat governor may very well be in our future.
Or is that the plan…
Florida Governor: Scott (R) Sink (D) Race A Toss-Up

Rasmussen Reports

Republican Rick Scott continues to hold a small lead over Democrat Alex Sink in Florida's gubernatorial race.

A new Rasmussen Reports telephone survey of Likely Voters in Florida finds Scott with 46% of the vote, while Sink's support stands at 41% when leaners are included. Five percent (5%) favor some other candidate in the race, and seven percent (7%) are undecided. (To see survey question wording, click here.)

That's little changed from Scott's six-point edge a week ago,  but enough to move the race back from Leans Republican to Toss-Up in the Rasmussen Reports Election 2010 Gubernatorial Scorecard. At the beginning of September, the candidates were essentially tied.

The survey of 750 Likely Voters in Florida was conducted on September 30, 2010 by Rasmussen Reports. The margin of sampling error is +/-4 percentage points with a 95% level of confidence. Field work for all Rasmussen Reports surveys is conducted by Pulse Opinion Research, LLC.

Read More – http://www.rasmussenreports.com/public_content/politics/elections/election_2010/election_2010_governor_elections/florida/election_2010_florida_governor
Latest posts by Tom Tillison
(see all)
Comments