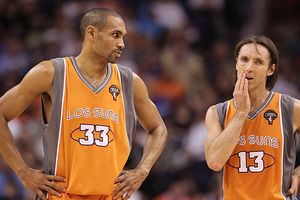 By Jesse Phillips
Make no mistake, I love professional sports for a number of reasons. But there are two things I don't like about it: the materialism, and the political correctness. It's the political correctness that I want to address, because it has flared up again in all of its glory, this time the NBA's Phoenix Suns are taking a left-wing stance on Arizona's recent illegal immigration crackdown.
According to ESPN, the Suns will wear Spanish jerseys labeled "Los Suns" tonight in honor of Cinco de Mayo, as well as to protest the recent Arizona law, for which they state their baseless fear of hate crimes and profiling.
The Suns official statement explaining their use of the Spanish jerseys reads as follows:
"The frustration with the federal government's failure to deal with the issue of illegal immigration resulted in passage of a flawed state law. However intended, the result of passing this law is that our basic principles of equal rights and protection under the law are being called into question, and Arizona's already struggling economy will suffer even further setbacks at a time when the state can ill-afford them."
Keep in mind that this is coming from ESPN, the network which fired Rush Limbaugh for merely suggesting that Donovan McNabb was overrated because people wanted him to succeed because he was black. Speaking of Limbaugh, the NFL is so ultra liberal that they refused him ownership in the St. Louis Rams, regardless of the fact that he has every right and financial ability to purcahse the team. It's not exactly the first time the ABC-affiliated network has taken a radical leftist political approach to an otherwise benign issue. ESPN should stick to sports, not politics, because they're good at sports, not politics.
There is a huge double standard here. Imagine if some sports teams actually used their logos and jerseys to make conservative political statements. What if the New England Patriots supported the Tea Party by handing out tea bags to dump in the harbor? Can you imagine the outrage? Why is it that team can make liberal statements that decry laws that support our brave law enforcement officers, but we cannot make pro-America statements that actually support our true heritage?
If I were the San Antonio Spurs, here's what I would do. First, I would beat the Suns tonight and run up the score, if possible. Then, for game 3, I would have my team play in the old Alamodome where they used to play all their home games. I would hand out t-shirts with pictures of Sam Houston yelling "Remember the Alamo", recalling the great Battle of San Jacinto with visions in our minds of Santa Anna's forces retreating after a surprise attack during their afternoon siesta, gaining Texas independence.
Go Spurs! Beat "Los Suns"! Stop the political correctness. Remember the Alamo.
DONATE TO BIZPAC REVIEW
Please help us! If you are fed up with letting radical big tech execs, phony fact-checkers, tyrannical liberals and a lying mainstream media have unprecedented power over your news please consider making a donation to BPR to help us fight them. Now is the time. Truth has never been more critical!
Success! Thank you for donating. Please share BPR content to help combat the lies.
Latest posts by Jesse Phillips
(see all)
Comment
We have no tolerance for comments containing violence, racism, profanity, vulgarity, doxing, or discourteous behavior. If a comment is spam, instead of replying to it please click the ∨ icon below and to the right of that comment. Thank you for partnering with us to maintain fruitful conversation.