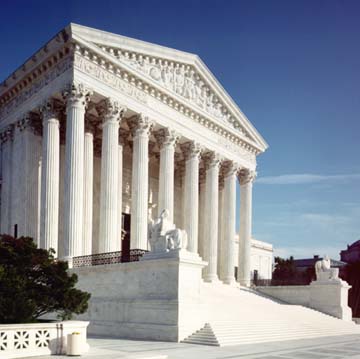 The most important question you can ask a Presidential and Senatorial candidate is their approach to nominating and approving judges. Contrary to our founder's intention, the judicial branch of our federal government today is viewed as a co-equal branch and is oftentimes seen as the supreme law of the land, providing the last and final opinion that the rest of the country must follow.  Judicial activism vs. strict constructionist approaches to judging cases is the debate at hand.  As a result, rulings nowadays impact our country for decades.
On Wednesday, the Supreme Court reversed a lower court decision regarding a WWI War memorial in the form of a cross. 
The Liberty Legal Institute, with their website DontTearMeDown.com released this video last year to explain the Supreme Court case:
By Jess Bravin
Wall Street Journal

The "offensive" Mojave Desert Cross at the WWI Memorial pictured with the cardboard box required by a lower court.

WASHINGTON—The Supreme Court on Wednesday reversed a lower court decision that could have required removal of a cross that has stood in California's Mojave National Preserve for generations.

Although it splintered in its reasoning, the court suggested strongly that the cross should remain because Congress has transferred the small plot on which it stands to a private group, addressing constitutional concerns.

"The goal of avoiding governmental endorsement does not require eradication of all religious symbols in the public realm," wrote Justice Anthony Kennedy. "This cross," he wrote, "evokes thousands of small crosses in foreign fields marking the graves of Americans who fell in battles."

The cross was originally erected on the site in 1934 by members of the Veterans of Foreign Wars, to honor American soldiers who died in World War I. The cross has been maintained or rebuilt over the decades by members of the veterans group.

A retired park employee sued, contending that the cross violated the constitutional separation of church and state. The national preserve is public land stretching about 1.6 million acres in southeastern California. After Congress transferred ownership of the land to the veterans group, lower courts found the cross still had to go.

The justices told the lower courts to reconsider whether the land transfer cured the constitutional issue, but, Justice Kennedy wrote, made no "sweeping pronouncements" on the line between church and state. Due to the "highly fact-specific nature" of the case, it is "unsuited for announcing categorical rules."

Four other conservatives agreed with the outcome, although only Chief Justice John Roberts joined Justice Kennedy's reasoning in full. Four liberal justices dissented.
Powered by
Latest posts by JasonWHoyt
(see all)
Comments